Hiya pals,
Hope you all had a lovely weekend and are having a nice week so far. I was chilling with my family in Glasgow this weekend and then had the press night for
Takin' Over the Asylum
at the Citz on Saturday. This is one of our co-productions, opening in Glasgow and then transferring to the Lyceum so I am was so excited to see it (it was amazing by the way, so catch it if you can!) It's got an great soundtrack, which I mentioned before...
Soul Man
,
Rainy Night in Georgia
and
Sweet Soul Music
so perfect for dancing to. I was definately bopping away in my seat, not going to lie.
I missed the BAFTAs last Sunday night, so have been trying to catchup on iplayer. I love awards season, mostly for the dresses (you've got a love a good frock! Who doesn't?) but it is always good to hear what films have done well, especially if I haven't seen or heard of them before, so gives me something new to watch. I don't know a lot about film but would like to learn more about it, so figure this is a good a way as ever...just as long as I don't get distracted by all the dresses first!
So here are a few of my favourites. There were some gorgeous dresses this year, so was really hard to choose but there were a few beauties that I had my eye on. Oh to have the occasion to wear dresses like this in real life. Major swoon!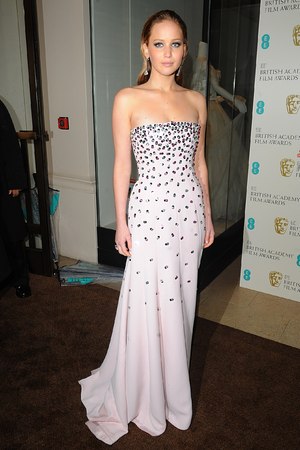 Jennifer Lawrence in Dior

- classic and timeless and as a true magpie, you have to love a bit of sparkle and glitz! Not sure about her scraped back hair though - very

Addicted to Love

and think a necklace would have worked well too.
Anne Hathaway in Burberry

- She just looks so lovely with her Fantine short hair, really really suits her. Another simple but chic dress.
Marion Cotillard in Dior Couture

- this dress is such a great colour, very eye-catching (you wouldn't be able to miss this dress if you tried) and love the gathering detail. Not sure about the little thigh flash as think it is beautiful enough on its own. Lily James

- Not sure who the designer is on this one, but you go to love a bit of lace.
Juno Temple in Stella McCartney

- again, simple and chic. I think simple is the best way to go for awards, rather than doing a Bjorc swan as its the elegant ladies that stand out, rather than anything over the top.
Helen Mirren in Nicholas Oakwell Couture

- I couldn't not mention this lovely lady and her hair! How amazing is that, she looks fab, really rocking the pink hair. Also love this photo - if I had a Cinderella dress like this, I would definately swish about in it!
Have you been watching any of the awards ceremonies? Do you like the dresses I have chosen?